You'll likely need an excellent resume to secure a good job. Even if you are exceptionally well-qualified, hiring managers won't know how much you deserve a particular job unless you communicate this information effectively. In addition, you should communicate it quickly. Hiring managers often need to process dozens, if not hundreds, of resumes to fill each open position, so if your resume doesn't grab their attention immediately, they'll probably move on to the next candidate.
Indeed, a 2018 study conducted by the job search platform Ladders found that recruiters only spend an average of 7.4 seconds on each resume when evaluating potential candidates for a job opportunity. This guide will show you how to use our app to build resumes that grab the hiring manager's attention, make you look as impressive as possible, and ultimately help you advance your career.
Template
The first step to building your resume is choosing your template. Overall, you'll want the design of your resume to be simple, clean, and easy to read. The type of template you select may also vary depending on your industry. For example, if you're pursuing a position as a graphic designer, you may want to choose a template that has more color and visual appeal. If you're building a resume for a role in the technology field, you may want a more straightforward template.
Also, instead of using walls of text that are sure to make the hiring manager's eyes glaze over, break up the content of your resume by using multiple sections and bulleted lists. This will make it easier for the hiring manager to engage with your content and identify the key qualifications they are looking for.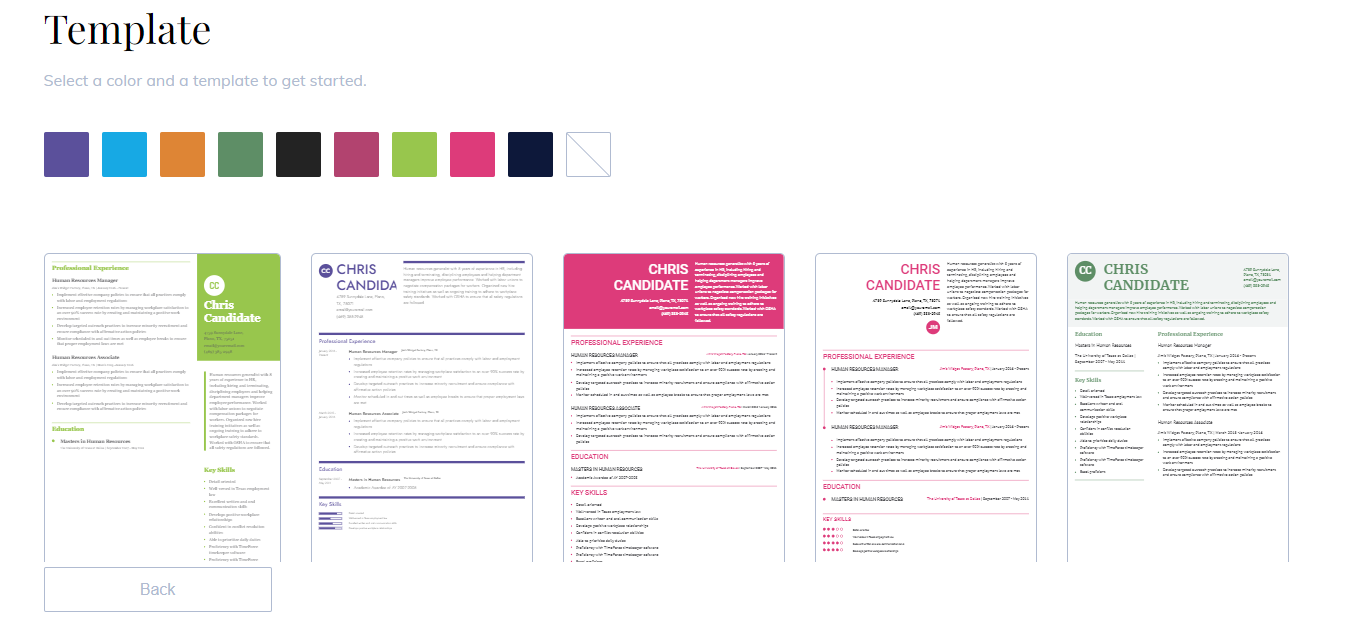 Contact Information
Of course, the purpose of your resume is to convince the hiring manager to call you in for an interview. To do that, they'll need to know how to reach you. You must include your name, location, email address, and phone number on your resume. If you have a complete LinkedIn profile, you should include a link to that as well. And if you're concerned about privacy, you can just include your city, state, and ZIP code rather than your full street address. In the event that you're looking to relocate to a new state, it's acceptable to leave your current location off of your resume.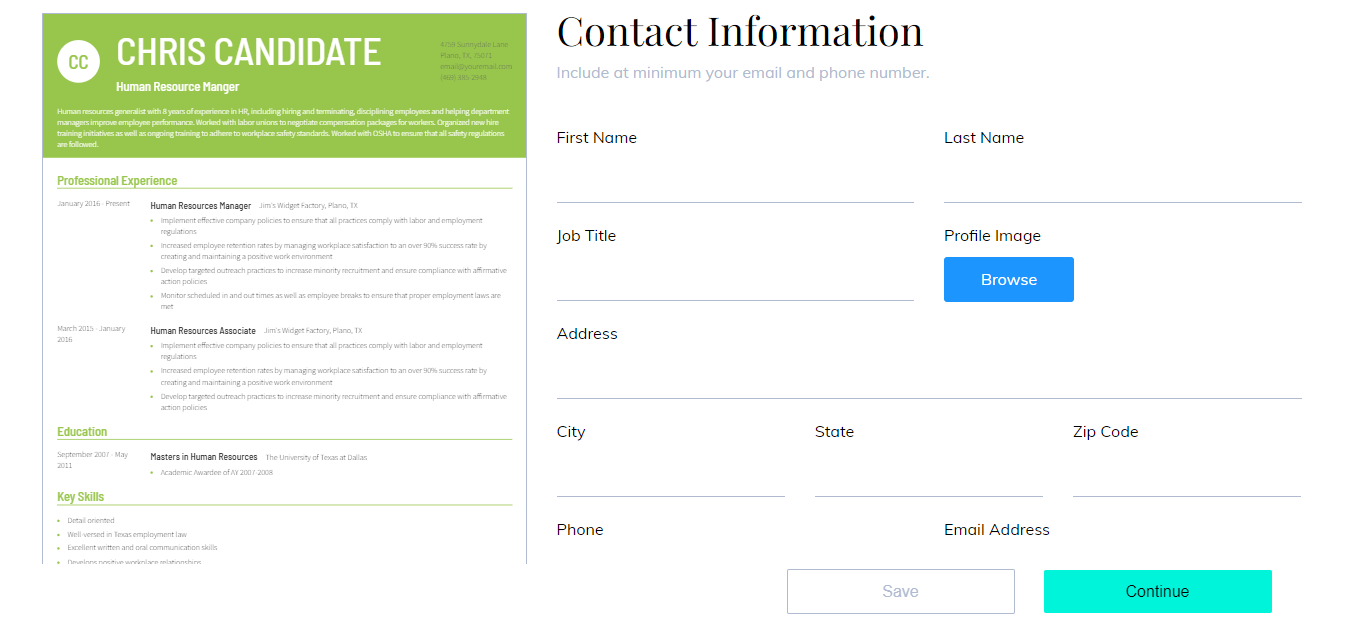 Education
The job you're applying for may require a degree in a related field, so it's important to add your educational background to your resume. Include any institutions you've attended and degrees you've earned in this section.
Recent college graduates and other relatively inexperienced workers should consider including additional information to compensate for their lack of professional experience. This also gives you an opportunity to add keywords that improve how your resume is ranked by applicant tracking system (ATS) software. For example, you could elaborate on any research you've helped conduct, or maybe there was a particularly impressive capstone project you completed at the end of your degree program. If you graduated with honors or had a high GPA, that information is also worth including.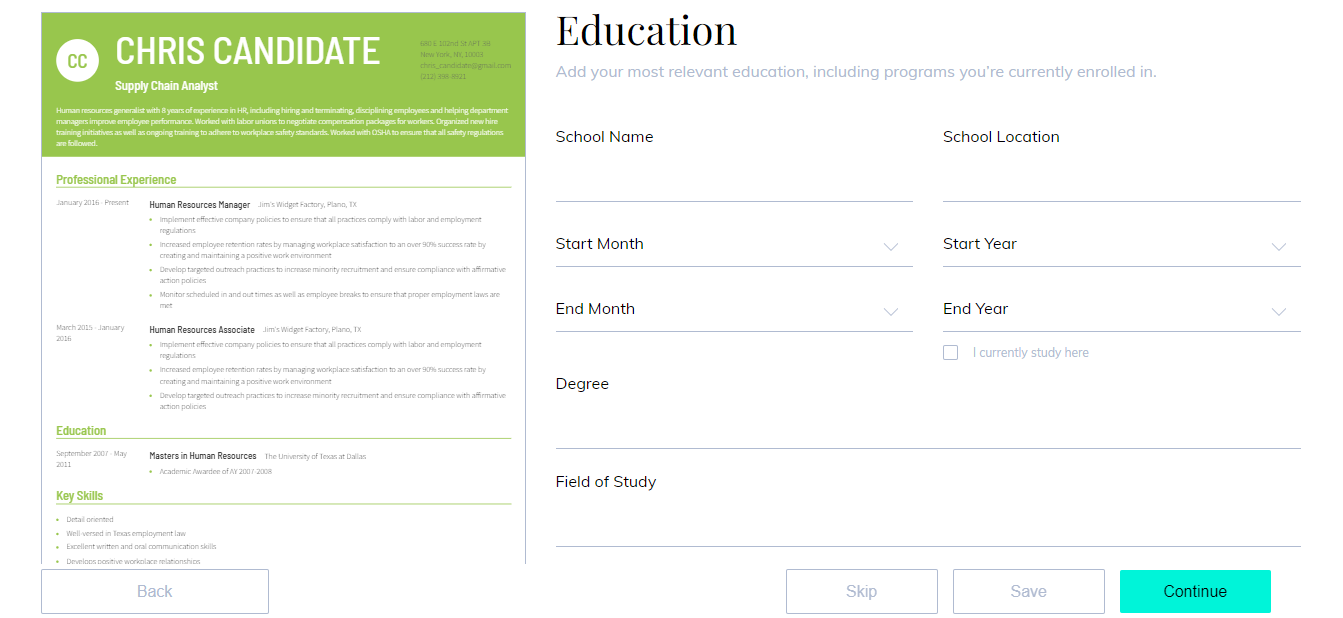 Recent Professional Experience
This is the single most important section of your resume. Before they hire you, employers want to be confident that you know how to handle the responsibilities of the open position. Ideally, you will have worked in the exact same role (or at least a similar role) at other organizations in the past.
Use bullet points to describe your responsibilities and accomplishments at previous jobs, and whenever possible, use specific figures to demonstrate how well you performed in these roles. For example, instead of writing "Analyzed processes and identified areas for improvement," you should write something like "Increased organizational efficiency by analyzing processes and identifying areas for improvement, resulting in annual savings of over $50,000." This shows employers that you not only know how to do your job and know how to do it well.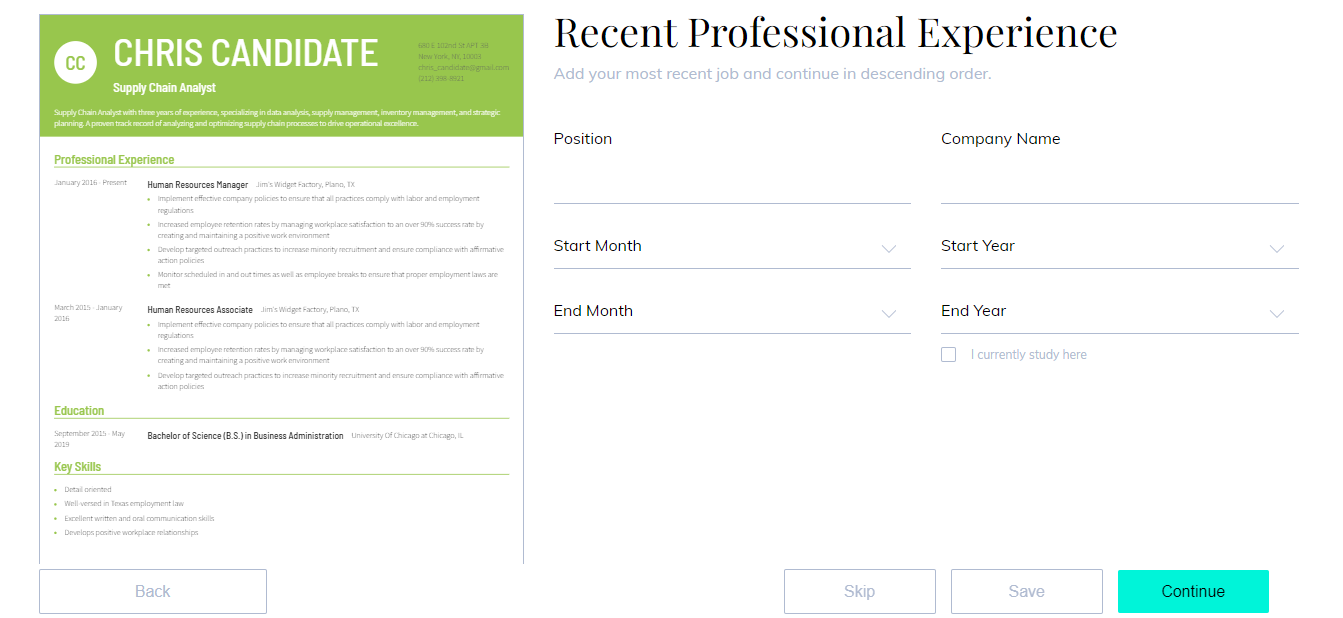 Key Skills
In addition to your recent professional experience, including a key skills section is helpful to let employers know what you are capable of. This section should be focused on hard skills, such as expert knowledge of specific areas within your field of study or proficiency with particular software programs and other tools. We recommend you reference the job description when deciding which skills to include in this section, as this will make you look like a better fit for hiring managers and improve your ATS ranking.
Many of the templates included in our app allow you to include a star rating or progress bar icon next to each skill. This feature allows you to highlight your absolute most valuable attributes as an employee. It also adds a striking visual element that will help your resume stand out from other applications.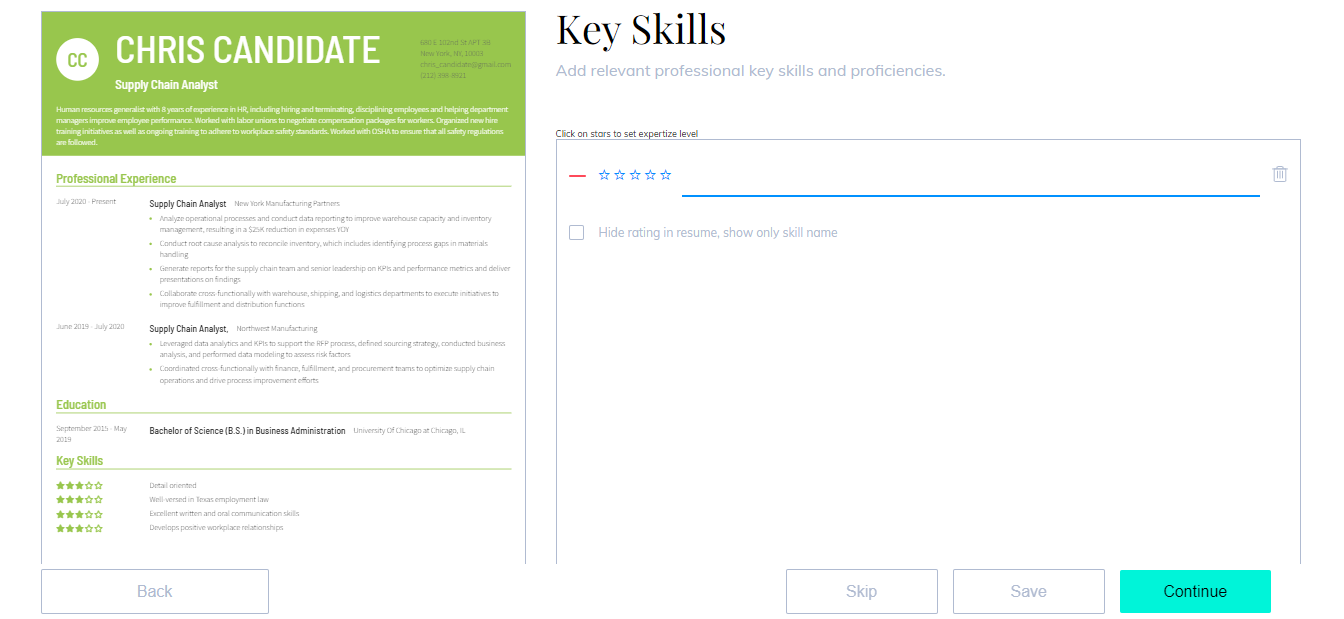 Profile
At the top of your resume, you should include a brief paragraph (stick to two or three sentences) that summarizes your professional experience. You have a short window to grab the hiring manager's attention. Providing a compelling summary that features key qualifications the organization is looking for may encourage a longer look at your document. This is also a good place to bring in phrases from the job description to help improve your ATS ranking.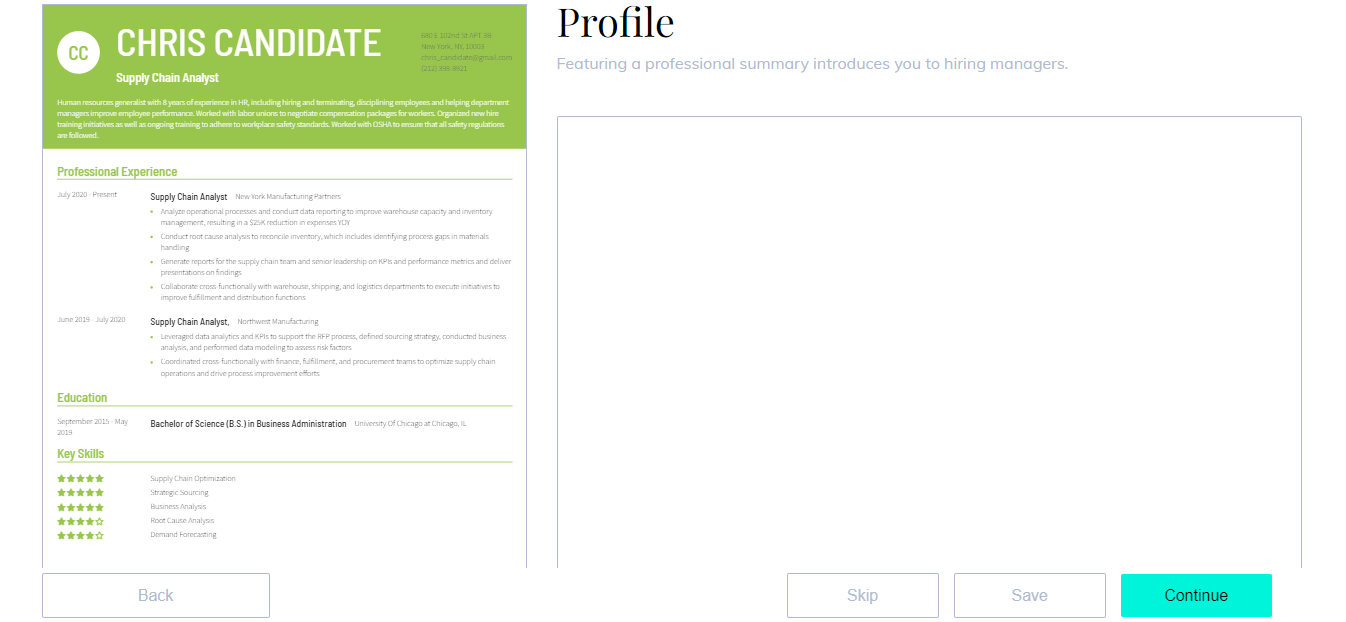 Additional Sections
We've now covered all the core sections that should be included in every resume. But depending on your professional background, you might want to add more to fully cover your work experience and skill sets. Inexperienced workers should consider adding more sections (such as expanding the education section) to help fill out their resumes and insert more keywords for ATS software.
Do you have volunteer experience? This could be worth including on your resume, especially if relevant to the job opportunity.
If you have multiple certifications, this is another aspect of your background that may deserve its own section. In particular, IT workers should strongly consider including it because certificates from organizations such as Amazon, Google, and CompTIA can be as valuable as degrees in this industry.
You may also be affiliated with professional associations or other organizations connected to your industry. Including this information will show that you are highly committed to your work.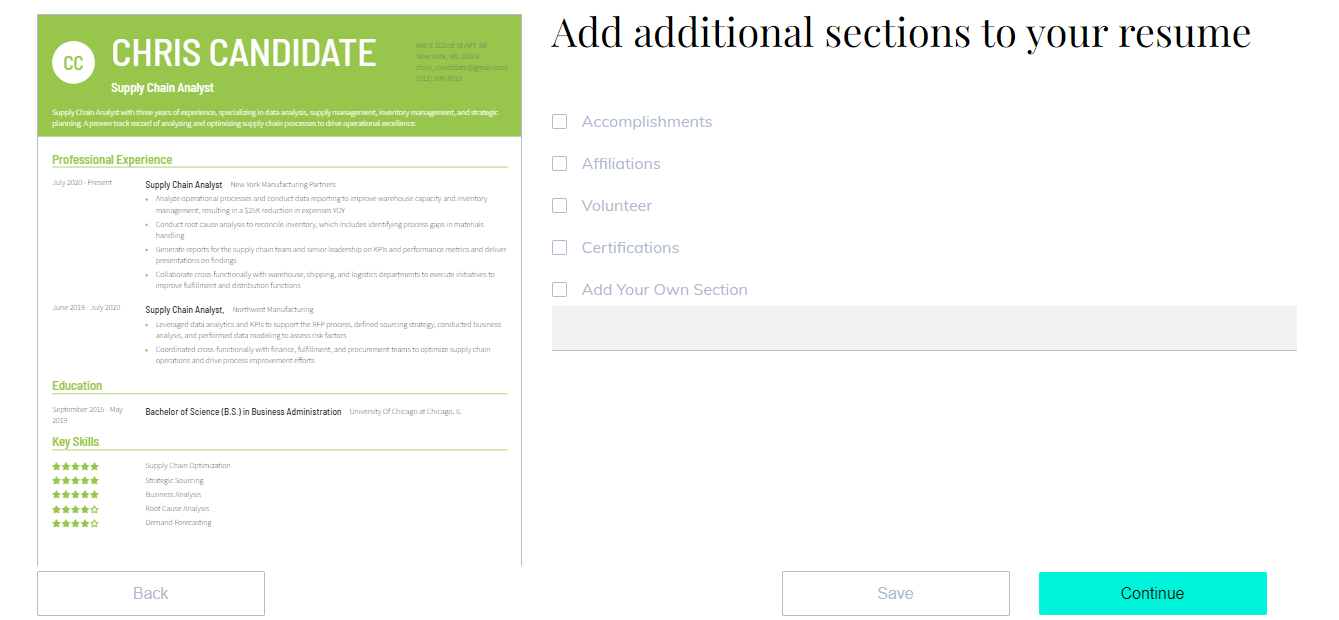 If you decide to add more sections to your resume, make sure your content still fits cleanly on one page. Remember, recruiters will likely only spend a few seconds reviewing your resume. That's barely enough time to scan a single page, so anything beyond that would simply be ignored.
You now have all the tools you need to build an effective resume. But it takes more than that to really stand out from the competition — even after you've perfected your resume, you should still write a custom cover letter for each specific job opportunity. A strong resume paired with a highly personalized cover letter will make you a top candidate for any open position you're qualified for.