Most candidates don't realize that LinkedIn has a built-in SEO functionality that determines the visibility of candidates based on appropriate keywords and industry terms.
Not only does LinkedIn track the key terms listed in your skills section, but it will also calculate keywords that appear in your about section and work experience portions of your profile. Integrating your skill sets tactically throughout your LinkedIn profile greatly enhances your visibility with recruiters and showcases the most important aspects of your industry expertise. Using our guide, you will learn how to add your skills and determine which ones to include based on your field.
How to Add Skills to Your LinkedIn Profile
Adding skills to your LinkedIn profile is relatively simple. First, you'll need to click 'view profile' and select 'add profile section' from the drop-down menu. You'll be given a list of options. Select the skills section at the bottom. Finally, you'll scroll down to the bottom of your profile and select the + icon to begin adding skills to your profile. LinkedIn offers recommendations based on content already present on your profile, but you'll want to conduct your own research rather than simply adding all of their suggestions.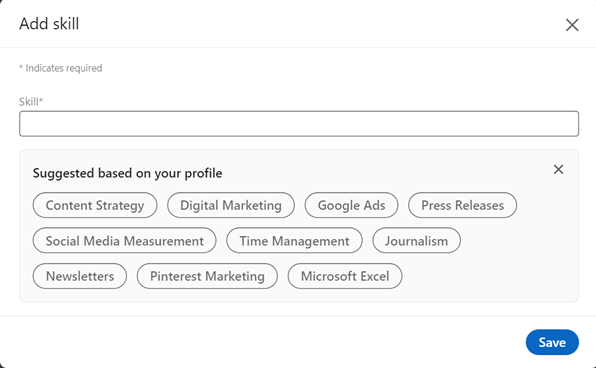 Reorder Your Skills Based on Priority
Once you've added your skills to your profile, you can then reorder them based on priority by clicking on the pencil icon followed by the three-dot icon at the top right of the skill section. The top three skills will be featured more prominently, so it's important to identify your most valuable areas of expertise. For example, if you're pursuing a career in project management, you'll likely want to highlight Agile methodology and cross-functional collaboration to ensure that recruiters see these skill sets first.

Add 50 Skills to Your LinkedIn Profile
Using all 50 of your skills slots is essential for maximizing your chances of catching the eye of recruiters. You still need to be tactical in what you include here, as LinkedIn will sometimes recommend skills that aren't relevant to your current career prospects. Before adding your skills, you can view what companies are looking for by analyzing specific job postings on LinkedIn. With a LinkedIn Premium membership, you'll be able to see how your profile matches the employer's needs and tailor your skill sets accordingly.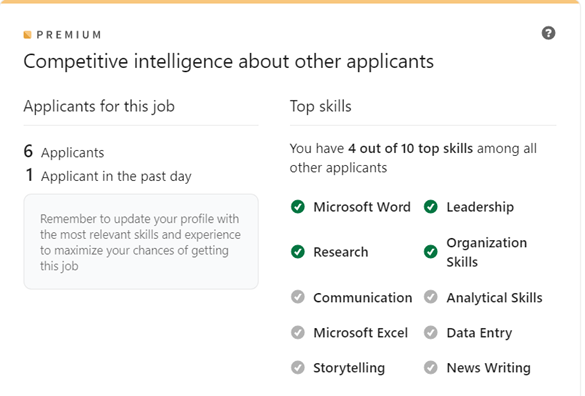 Reach Out to Your LinkedIn Network for Endorsements
It is important to reach out to your connections to ask for skill endorsements, as this will highlight those past colleagues that regard your expertise and contributions as valuable. Obtaining endorsements will also speak to your ability to build long-term relationships with colleagues. This is another key factor to consider when building your skill section, as you also want hiring managers to see that you're the right fit for their organization's culture. When reaching out for endorsements, be sure to offer to do the same for your connections.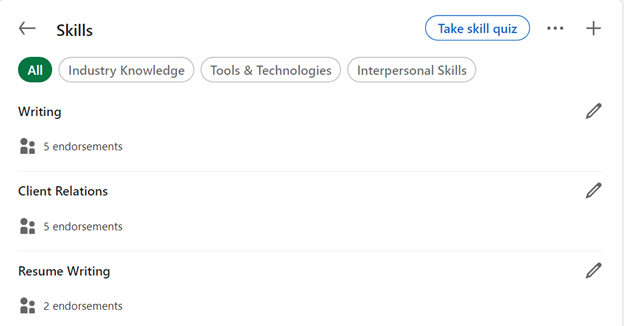 The Best Skills to Add to Your LinkedIn Profile
Below, you'll find 40 high-value keywords that you can add to your LinkedIn profile. It's important to understand that this list of skills casts a wide net to give you a basic understanding of key terms that can improve your visibility on the LinkedIn platform. If you're a professional in a very specialized field, conduct additional research on the companies you're applying to and what their requirements are when building out your skills section.
For example, if you're a professional in the data science field, machine learning is a given. However, you may find that a company you're reaching out to wants a professional who has a background in deep learning, which is an emerging industry trend. Using the LinkedIn Premium feature to see how your experience matches the job requirements can be a helpful feature and provide you with additional insights into how you match up with other applicants.
Adaptability
Agile Methodology
Artificial Intelligence (AI)
Blockchain
Business Analysis
Change Management
Client Relations
Cloud Computing
Collaboration
Communication
Creativity
Cross-functional Collaboration
Customer Service
Customer Success
Data Analysis
Data Analytics
Data Science
Digital Marketing
Diversity, Equity, and Inclusion (DEI)
Emotional Intelligence
Human Resources
Leadership
Machine Learning
Management
Marketing Strategy
Operations Management
Persuasion
Product Development
Product Management
Project Management
Relationship Building
Sales
Software Development Lifecycles (SDLC)
Software Engineering
Stakeholder Management
Strategic Planning
Team Building
Team Management
UX Design
Video Production