Of all work-related communications, resignation letters are by and large the least fun to write. Due to the purpose — leaving a job — resignation letters can feel awkward and stressful to write. However, they are an essential part of transitioning from one job to another.
Before leaving your job and moving on to the next adventure, use these tips and tricks to write the best possible resignation letter.
The Purpose of Resignation Letters
A resignation letter, as the name implies, is used to formally resign from a job. While it's possible to quit a job without one, a resignation letter is considered the proper way to document departure. This letter is a way to announce future plans, provide details about leaving a position and communicate any key information on the record. These letters are generally included in an individual's HR file to be used to guide the exit process.
Resignation letters are most commonly seen in white collar or career-type jobs but can be used under any circumstances. In most cases, resignation letters are provided to both a direct manager and the human resources team.
Tip!
Keep in mind these tips, when writing: Be Succinct. Keep Details Firm. Do Not Overshare. Stay Largely Positive. Keep It Brief. And most of all. Be Sincere.
The Main Elements of Resigning
Most resignation letters are fairly short and to the point as the process of bidding a job farewell generally does not require significant detail. However, most letters contain, at minimum, the following:
A standard header, including your name, address, phone number, and the date
A professional salutation
A sentence stating the decision to resign
A departure date, generally at least two weeks away from the date of notification; you may or may not wish to share your new employer
A short explanation of the reasons for leaving based on employee comfort level — in some cases, these reasons are vague and formal while in others, they are detailed and honest
Any plans for supporting the transition process, including creating training documents or assisting in interviewing
A thank you message to an employer
A professional remark, like "thank you" or "sincerely"
Your name and signature
More often than not, resignation letters are no more than a paragraph or two; most people do not want to belabor the point. However, those with close relationships to their managers may want to write a more personal note providing context or expressing gratitude.
Tips and Tricks
If you want to write a great resignation letter, keep these tips in mind:
Be Succinct. In the first few words, the reader should know that you are resigning.
Keep Details Firm. If you aren't sure when your last day should be, choose one at least two weeks away and include it in the letter. This should be the earliest day at which you will depart. Future circumstances may be negotiated, but in general, what is included in your resignation letter should be as close to reality as possible.
Do Not Overshare. You may have many thoughts to share with your current employer, but anything overly personal should be handled in a face-to-face manner, like in an exit interview.
Stay Largely Positive. In some cases, quitting a job can be a contentious choice. In toxic workplaces, for example, employees may have strong feelings associated with leaving. However, your resignation letter is not the time to air grievances. Instead, stay professional and polite.
Keep It Brief. Few HR representatives will take the time to read a lengthy letter. Instead, keep yours short and easy to read.
Be Sincere. If at all possible, be sincere. While certainly not a requirement for those leaving on bad terms, those leaving on good terms should share genuine thanks when necessary, sharing a good moment or kind words with a letter recipient. This can result in a more professional presentation and an easier transition.
---
Resignation Letter Examples
In most cases, resignation letters won't differ significantly. However, there are some reasons to switch up your communication.
Standard Resignation Letter
A standard resignation letter will suit a wide variety of purposes and job titles, providing the basics necessary to leave a job in a professional manner.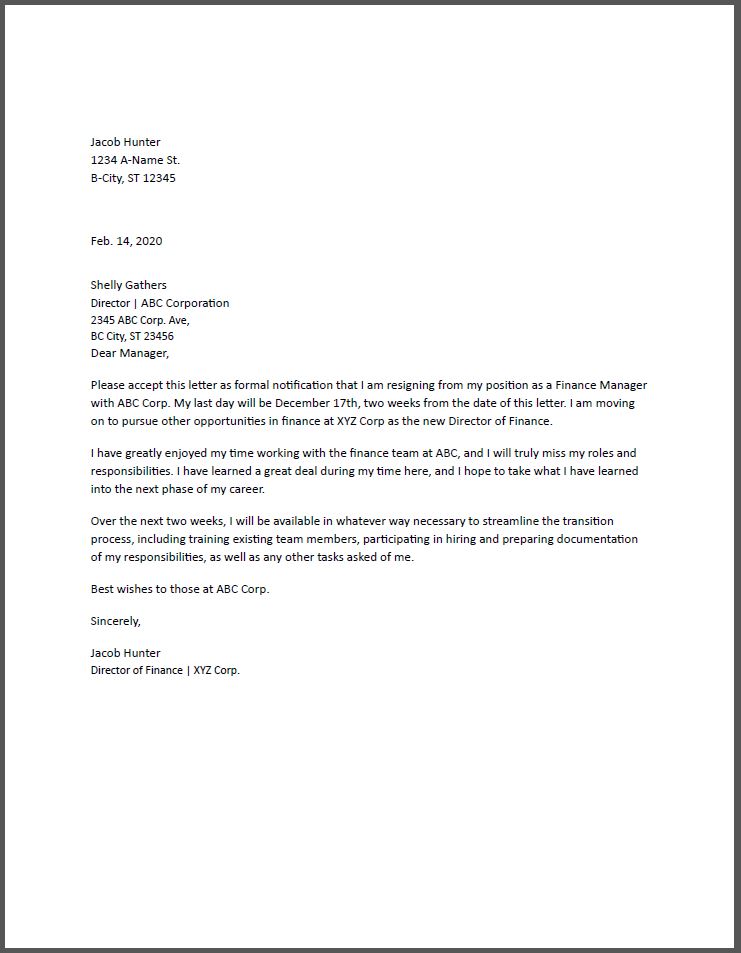 Resignation Letter With Contract
While most U.S.-based workplaces are at-will, in some cases, employees will be bound by a contract outlining rules for resignation. In this case, it may be beneficial to cite contract clauses and any company requirements to ensure departure is handled by the book. While not always necessary, a resignation letter that specifically addresses language in an employee contract can put managers and HR at ease.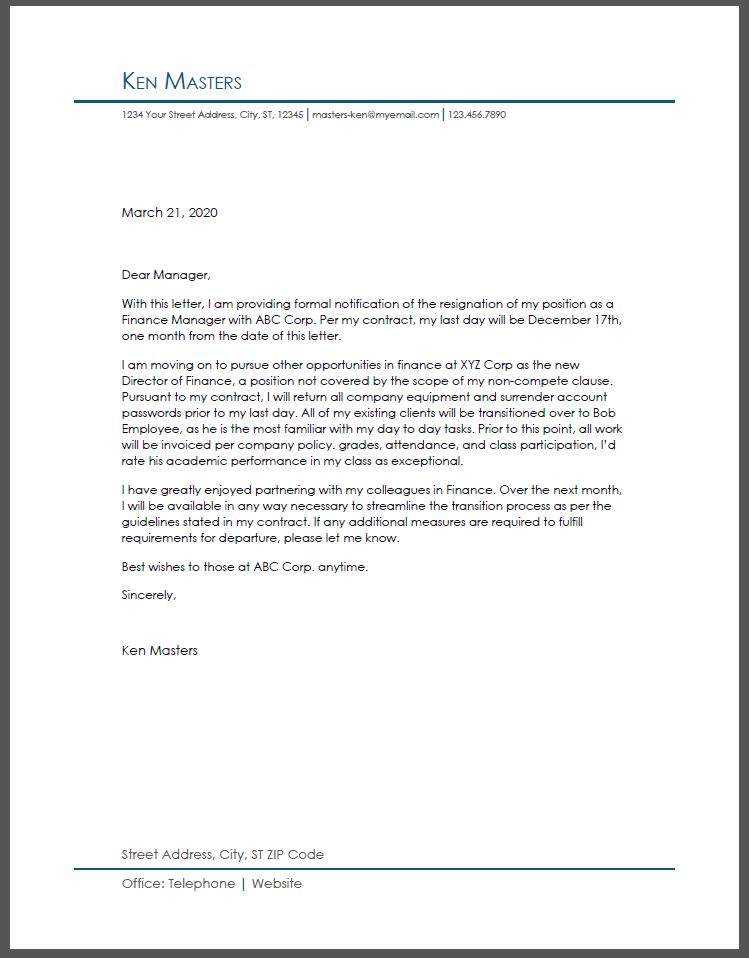 Resignation Letter for Personal Reasons
In most cases, resignations correlate with job transitions. However, in some cases, people leave jobs for personal reasons. If you feel comfortable, feel free to share these reasons in your letter. This can be helpful for HR employees quantifying employee departure reasons for training or data collection processes. If you are willing to work as a contractor while your role is being filled as you will not be moving on to another role immediately, this can be stated in your resignation letter as well.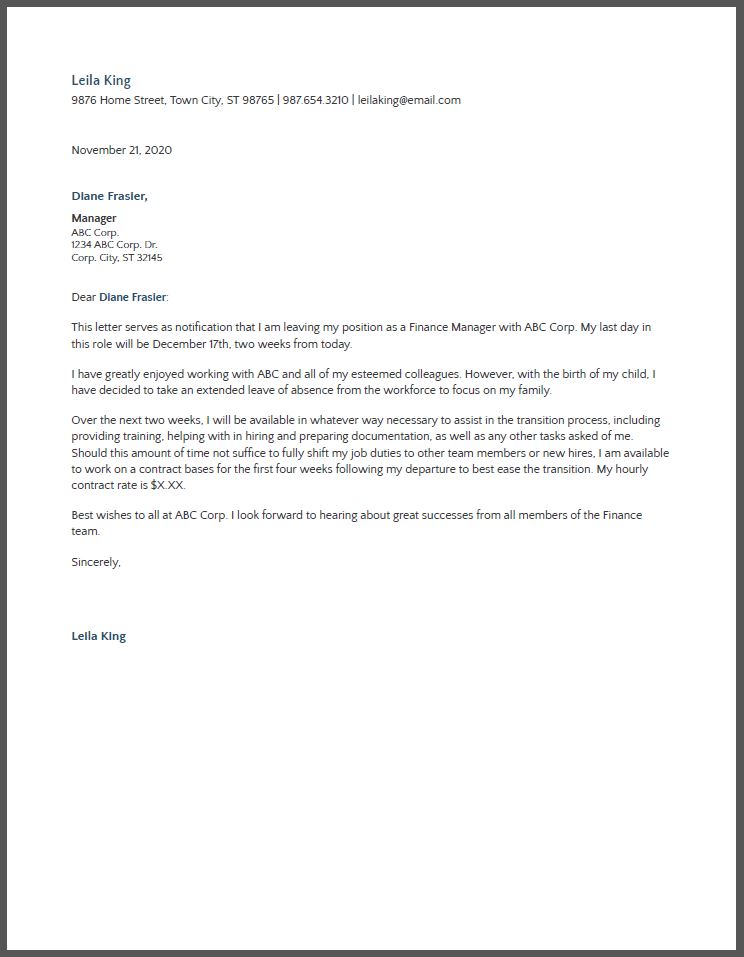 Resignation letters are never fun to write, but they are an essential part of maintaining employment. With these tips, tricks and templates, you can write the perfect resignation letter as you move forward in your career.