| Provider | Cost | Turnaround Time | Platforms | Customer Rating |
| --- | --- | --- | --- | --- |
| StandOut Resumes LLC | $249 – 399 | 5 – 7 Days | Online, Phone | |
| Philadelphia Resume Service | $225 – $400 | 3 – 7 Business | Online, Phone, Email | No reviews available |
| Nekeidra Filinov | $150 – $1,500 | 3 Business Days | Online, Email | |
| YourNextJump | $399 – $1,599 | 1 – 4 Weeks | Online, Video Chat, Email, In Person | |
| Career Pro Resume Center Inc. | $175 – $375 | Varies | Online, Phone, In Person | |
| Channing Resumes | Custom quote | 2 Business Days | Online, Email, Phone | |
| Thomas Career Consulting | $500 – $1,395 | 7 days | Online, Phone, Email, Zoom | |
| ResumeSpice | $409 – $629 | 2 Days or more | Online, Phone, In Person | |
| Capstone Resume Services Inc. | $65 – $349 | 2 – 3 Days | Online, Phone, In Person | |
The Best Resume Writing Services in Philadelphia
---
StandOut Resumes uses industry-specific, certified writers from across the country, enabling the company to match you with a writer who has experience in your field. Those writers develop a marketable resume for you, customized cover letter, LinkedIn optimization, or CV and professional bio. Some of their areas of specialization include federal resumes, executive resumes, and resumes for those in finance, IT, and healthcare. A free consultation allows you to determine if the company is a good fit for you without commiting.
Cost: Essentials: $249; Premium: $399
Turnaround time: 5 – 7 days, or 48 hours with a $59 rush fee
Resume design: Yes
| What We Like | What We Don't Like |
| --- | --- |
| Writers all U.S.-based | Writers have varying credentials |
| Free consultations available | |
| Discounts for military members, veterans, and students | |
What clients are saying. Reviewers love the free consultation call that allows them to ask questions before signing up with the company. They are almost universally happy with the professionalism and care the writers put into their work and the final products they deliver.
How to get started. There's a live chat option on the website if you have questions, or you can call them at (877) 660-1008. To get started, choose the package you're interested in and click through the order form process to schedule your discovery call with a writer.
---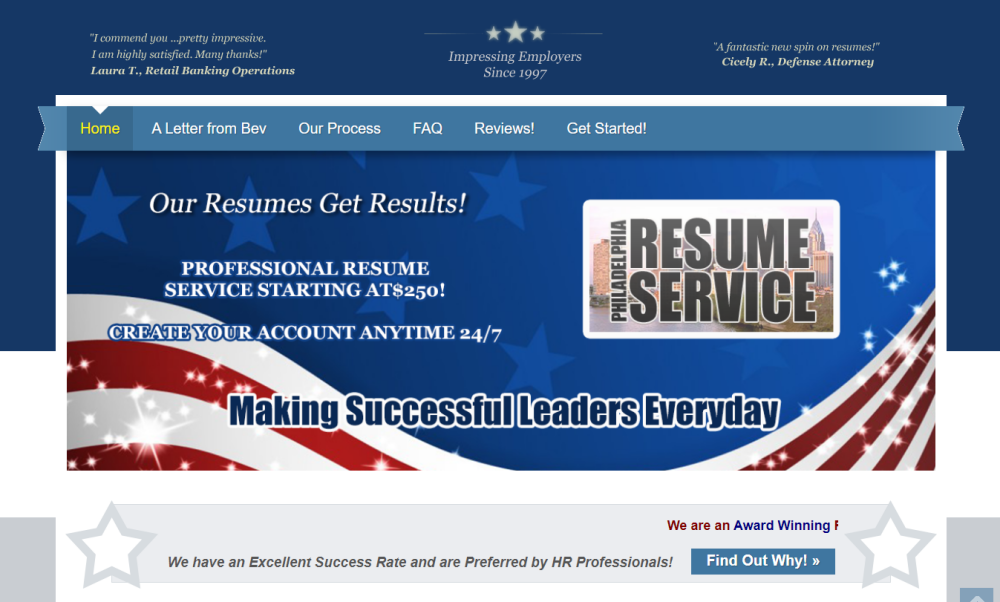 Philadelphia Resume Service has been in business since 1997, under the guidance of founder Beverly Daily. Packages are available for professionals, executives, advanced IT pros, and advanced engineers. Rush service gets your resume draft to you in 72 hours or less for an extra fee of $75. Daily and her team can create customized, professional documents for everyone from recent high school grads to tradespeople to C-level executives. They are skilled at creating resumes targeted to remote work.
Cost: $250 – $400
Turnaround time: 3 – 7 business days
Resume design: Yes
| What We Like | What We Don't Like |
| --- | --- |
| Evaluation of current resume available | No initial phone call with the writer; communications through email |
| 100% guarantee | No information on writers is available |
| $25 discount for military, police, fire, and EMS professionals | |
What clients are saying. Client reviews say the Philadelphia Resume Service is fast, efficient, and professional. Writers work hard to incorporate all the necessary materials in a format that gets past recruitment software and into the hands of hiring managers.
How to get started. You will begin the process by choosing your package online and submitting a deposit. You will fill out a questionnaire and provide previous documents via email and will soon receive a blueprint of the final document for your review.
---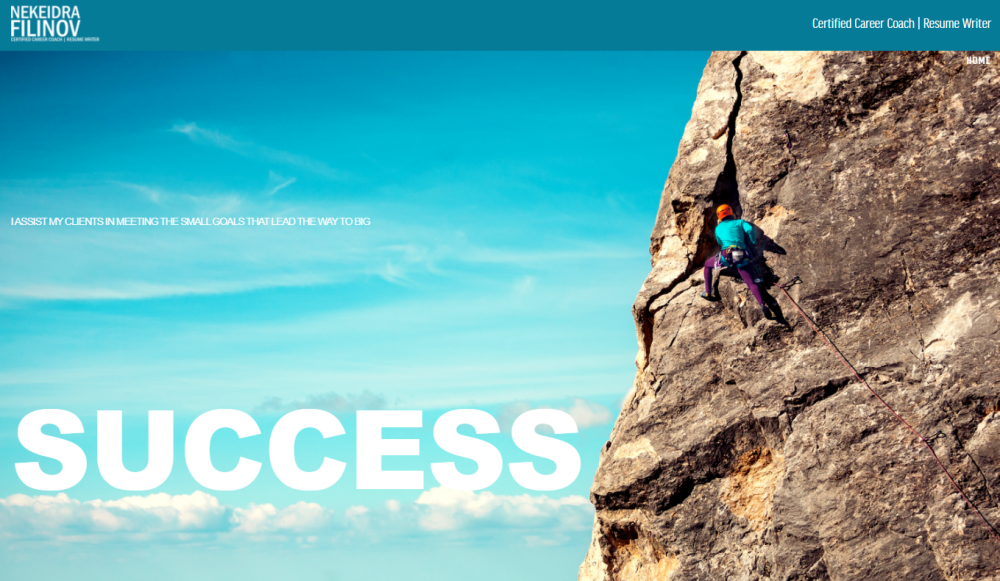 Nekeidra Filinov, a certified career coach and Academy Certified Resume Writer (ACRW), provides bespoke services for her clients. She has over 10 years of HR experience and a strong history of writing winning job documents. Her job search foundation package includes a resume review, assessments, worksheets, and customized coaching. She will also coach and help you market yourself to search out hidden jobs, and can write a focused, eye-catching resume at every point from beginner to C-level. Other packages include a cover letter with coaching and LinkedIn work with coaching.
Cost: $350 – $1,500
Turnaround time: 3 business days
Resume design: Yes
| What We Like | What We Don't Like |
| --- | --- |
| Expert-level coaching included with most packages | Services are expensive |
| Free initial consultation | |
| Skilled at digital marketing, law, travel, and manufacturing | |
What clients are saying. Reviewers call Filinov a "life changer" who collaborates with clients to help them craft the ideal career trajectory. She works with clients to learn what their ideal job is and helps make that happen through coaching and professional career documents.
How to get started. To begin working with Filinov, fill out the form on her website and upload your current resume if you have one. She will contact you for an initial free consultation and you can decide then if you want to move forward.
---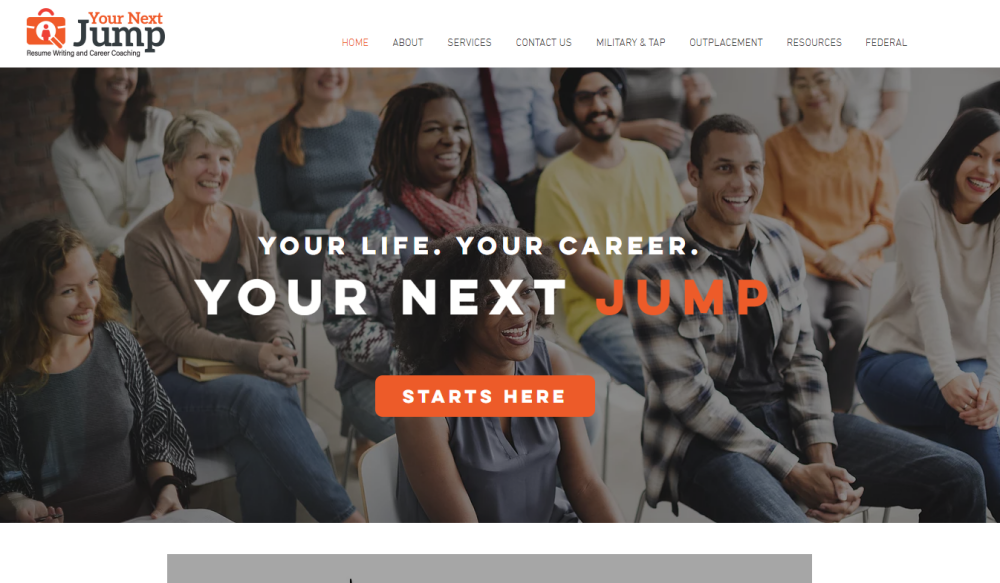 YourNextJump takes a holistic view of your job search. They have certified writers who will create a resume for you that is keyword-optimized and formatted for easy scanning, but they also offer their clients a career guide ebook, even with their most basic package. For their most popular package, the career launch kit, you'll receive a resume, as well as a professional LinkedIn headshot and profile update, a LinkedIn tutorial video, a 30-minute coaching session with a certified professional career coach, and more. Their highest-level program gives you all that, plus a personalized domain name and consultations with their in-house designer. An add-on interview preparation session preps you even more to land the job of your dreams.
Cost: $399 – $1,599
Turnaround time: 1 – 4 weeks (rush service available for a fee)
Resume design: No
| What We Like | What We Don't Like |
| --- | --- |
| Writers are CPRW certified | Higher-end packages are pricey |
| Informative website and blog | |
| Transition assistance program for military | |
What clients are saying. Reviewers say YourNextJump career advisors go above and beyond to help them craft their approach to finding the perfect job. They are more than resume writers, and give valuable feedback while offering strategies for success.
How to get started. To start, you'll choose the package that looks best to you and fill out a short form on the website. One of their Philadelphia-based career advisors will reach out to you after this to discuss your situation and see how the company can best support you in your job search.
---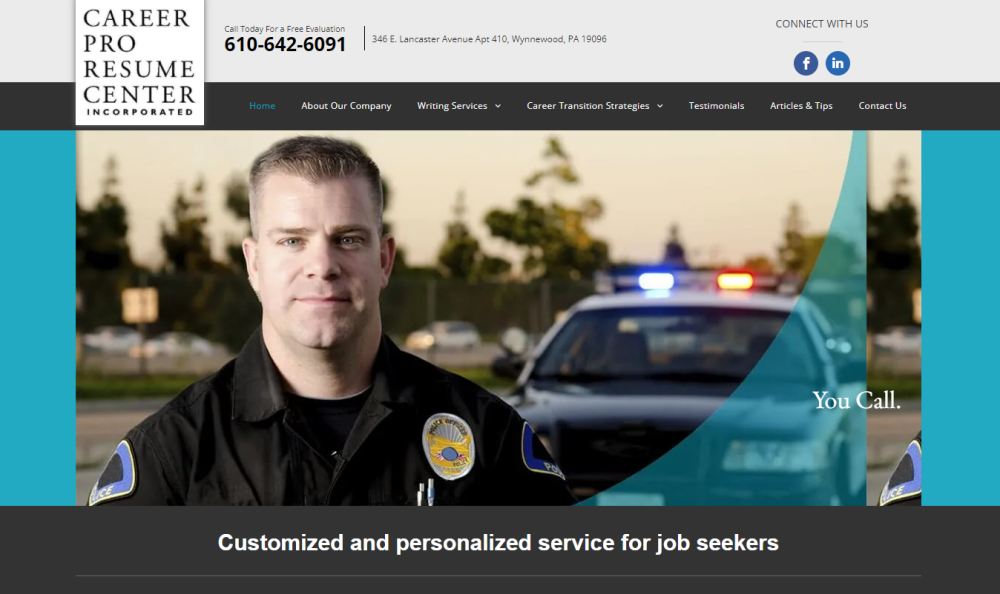 Career Pro offers customized and personalized services for job seekers, helping you target your resume and other job materials to the industry you want to work in. They are skilled at creating resumes, LinkedIn profiles, military conversions, CVs, and federal job materials. Founded by PR and marketing professional Louise Polis, the company specializes in law enforcement, law, education, IT, biotech, and more. Polis is a certified job and career transition strategist and a certified job and career development coach who can help you succeed in your job search, no matter what field you are in.
Cost: $175 – $375
Turnaround time: 3 – 5 business days
Resume design: No
| What We Like | What We Don't Like |
| --- | --- |
| Free resume evaluation | Can't sign up for services on the website |
| Specialists in career transitions | |
| Reasonable prices | |
What clients are saying. Clients say that Polis and her team bend over backward to be sure they understand the field you are interested in, and take the time to get to know you and your strengths. The resumes they produce are clear, concise, and effective.
How to get started. If you have questions, there's a form on the website that will initiate contact. You can also call them at (610) 642-6091. Once you decide to work with the company, you will have an informational phone call with a writer to get started.
---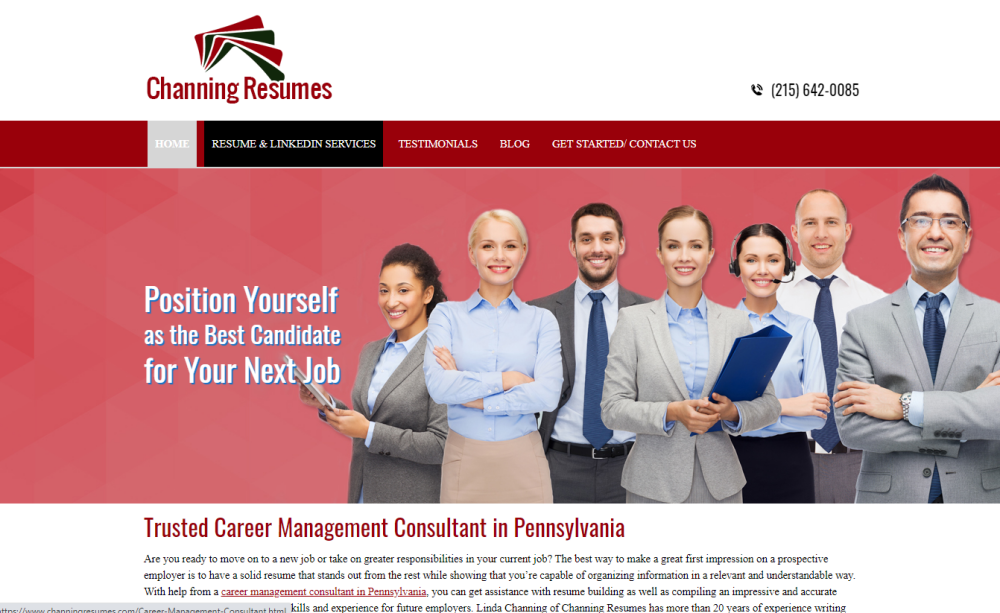 Linda Channing, founder and primary certified resume writer at Channing Resumes, has more than 20 years of experience as a career mentor. Her business focuses on resumes, cover letters, thank you letters, and LinkedIn profile optimization. She will work with you to help identify your most important skills and achievements and will organize this information into an effective, eye-catching resume to get past the automated review and get the attention of hiring managers. Channing's website is somewhat sparse, but she has a great reputation among her clients and high marks from online reviews.
Cost: Custom quote
Turnaround time: Two business days
Resume design: Yes
| What We Like | What We Don't Like |
| --- | --- |
| Free resume review | No option to choose a package on the website |
| Certified writer | No pricing info on the website |
| Outstanding reviews | |
What clients are saying. Reviewers say that Linda Channing makes the process of creating a resume easy and fast, with drafts available in just a couple of days. Clients say Linda Channing is easy to talk to and knows all the right questions to ask to end up with an eye-catching resume.
How to get started. To contact Linda Channing, call her at (215) 642-0085 or email [email protected] You can also fill out the form on the website, and she will contact you.
---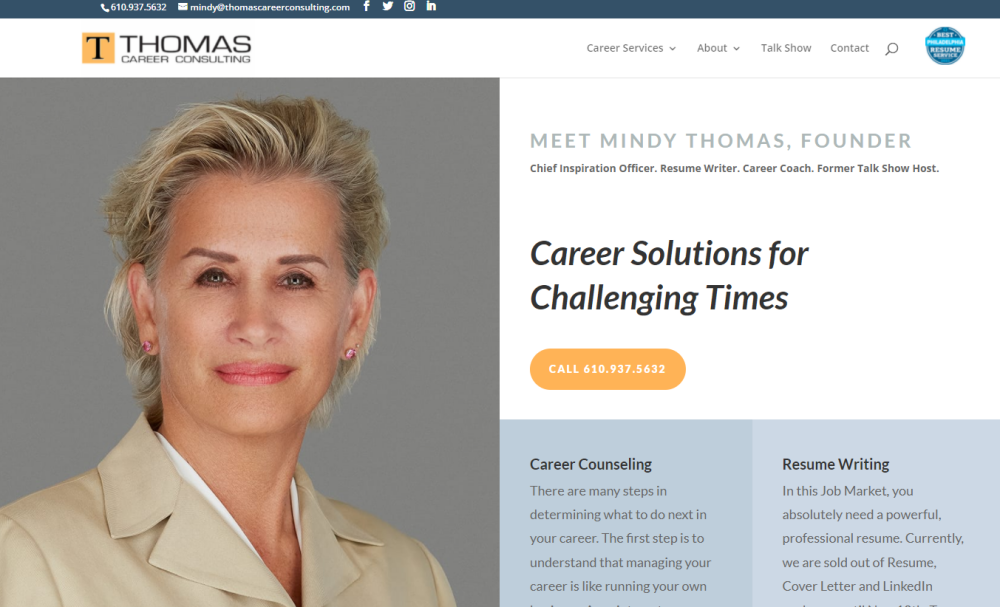 Certified Professional Resume Writer Mindy Thomas is a master's-level career counselor and Georgetown University Leadership Coach who works with clients across the spectrum of job fields and experience levels. In addition to creating functional, well-crafted resumes and other job materials, she offers career coaching for those trying to figure out what their next steps should be. Her career assessments guide you in taking stock of what you've done so you can move forward. She administers assessment tests as needed, and can help you negotiate a favorable salary for that dream job. She also provides outplacement services for employers and conducts job search workshops regularly. It's worth noting that Thomas works out of both Media, PA and Las Vegas, NV, and she offers career counseling and career marketing (resumes, cover letters, and LinkedIn profiles) as well.
Cost: $500 – $1,395
Turnaround time: 7 days
Resume design: Yes
| What We Like | What We Don't Like |
| --- | --- |
| Certified writer | Turnaround time-dependent on the owner's availability |
| A collaborative process with company owner | |
| Info-heavy website including "Career Chat" blog & newsletter | |
What clients are saying. Thomas Career Consulting has been reviewed over 100 times on Google, and they've maintained a near-perfect average score of 4.9 out of 5. Clients say working with Thomas gives them the ability to tackle the job search process with confidence. Thomas does more than write a resume, reviewers say, she helps people figure out the best steps to take to further their careers.
How to get started. You can get started with Thomas by filling out the form on her website and sending it in. You can also subscribe to her newsletter from the website, or call her at (610) 937-5632. Email is [email protected]
---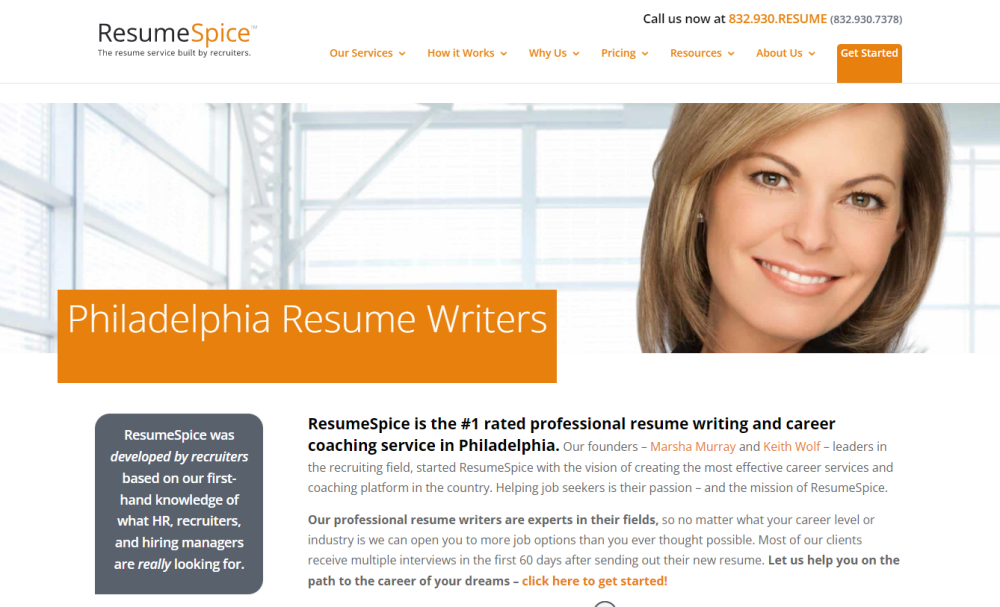 ResumeSpice is a national chain with a presence in Philadelphia. Since it's larger than many of our choices for Philadelphia job seekers, it has the ability to find a writer who is well-versed in your particular industry and can help you develop a customized strategy to land your dream job. In addition to all the basic job search documents you might need, including a resume, cover letter, LinkedIn profile, or professional bio, the company offers career coaching and a job application service for higher-end executives and professionals who don't have time to manage a job search on their own. Prices are reasonable and include a phone consultation with a resume expert and two rounds of revisions.
Cost: Entry-Level Resume: $409; Professional Resume: $519; Executive Resume: $629
Turnaround time: 2 business days or more
Resume design: Yes
| What We Like | What We Don't Like |
| --- | --- |
| 60-day interview guarantee | No information about writers on the website |
| Optional interview prep available | |
| Company founded by hiring recruiters | |
What clients are saying. Online reviewers say their money was well-spent at ResumeSpice. Reviews praise the writers in particular, who are skilled, friendly, and professional, and create excellent job search materials for clients.
How to get started. The ResumeSpice website makes it easy for you to order your resume services, pay online, and get started quickly. There is also online chat support if you have questions.
---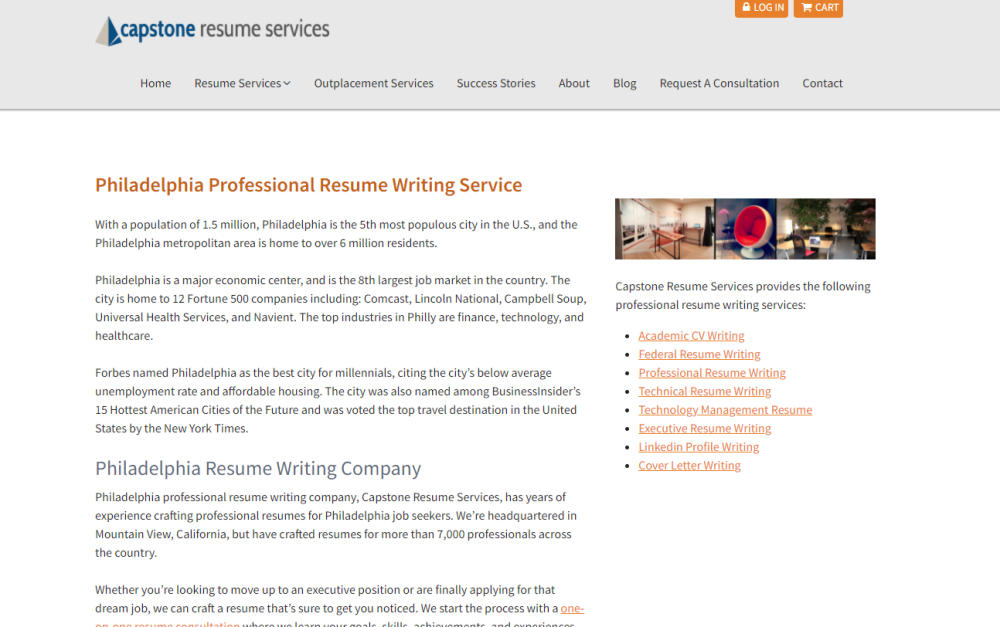 Certified resume writer Amy Gies is the founder of Capstone Resume Services. She spent 15 years writing resumes, biographies, and profiles for job candidates in many industries before hanging out her own shingle. She now provides a broad range of job search materials, starting with the basics, resumes, cover letters, and LinkedIn profiles. Her prices are reasonable, especially if you are just starting your professional career. She is also skilled at executive bios, academic and scientific CVs, and federal resumes. For those who do not have the time or inclination to market themselves, she offers advanced resume distribution services that get your resume in front of recruiters and headhunters in your preferred job market.
Cost: Entry-Level: Starting at $175; Professional: Starting at $299; Executive: Starting at $349
Turnaround time: 2 – 3 days
Resume design: No
| What We Like | What We Don't Like |
| --- | --- |
| Resume consultations available | Online reviews are mixed |
| Resumes for technical professions such as developers and programmers | Based in California; not local to Philadelphia |
| CPRW certified writers | |
What clients are saying. Online reviewers say the process goes smoothly, with Gies setting up phone consultations quickly and asking all the right questions to help tease out each client's strengths. Resumes and other job materials are custom-created for each client and are great at helping clients get interviews and earn jobs.
How to get started. You can request a consultation from the home page of the website, call (650) 445-5301, or email [email protected]