The Best Resume Writing Services in Omaha, NE
---

Heartland Resume's writers are all Certified Professional Resume Writers (CPRW) with the Professional Association of Resume Writers, the most widely accepted accreditation for resume writers in the U.S. The resume writers have experience in corporate human resources, recruiting and staffing, and business, technical, and creative writing. Every resume is done from scratch—no standardized packages or templates for resumes are listed on the website. In addition to resumes, Heartland's writers can do your LinkedIn profile, cover letter, reference dossier, and more. They also offer interview coaching for job seekers and will work with companies doing corporate layoffs. If you're looking to learn more about resumes in general, they provide a free report, "The Top 5 Resume Myths," that you can download by filling out the form on their website.
Cost: not listed
Turnaround time: 7-10 business days
Resume design: yes
| What We Like | What We Don't Like |
| --- | --- |
| Fully guaranteed | No cost information on the website |
| Informational blog on the website | No information on individual writers |
| Interview coaching available | |
How to get started: To contact Heartland Resumes, call them at (402) 215-8238 or fill out the form on the contact page of their website. Once you've connected, you'll fill out a resume questionnaire that will become the basis of your new job materials.
---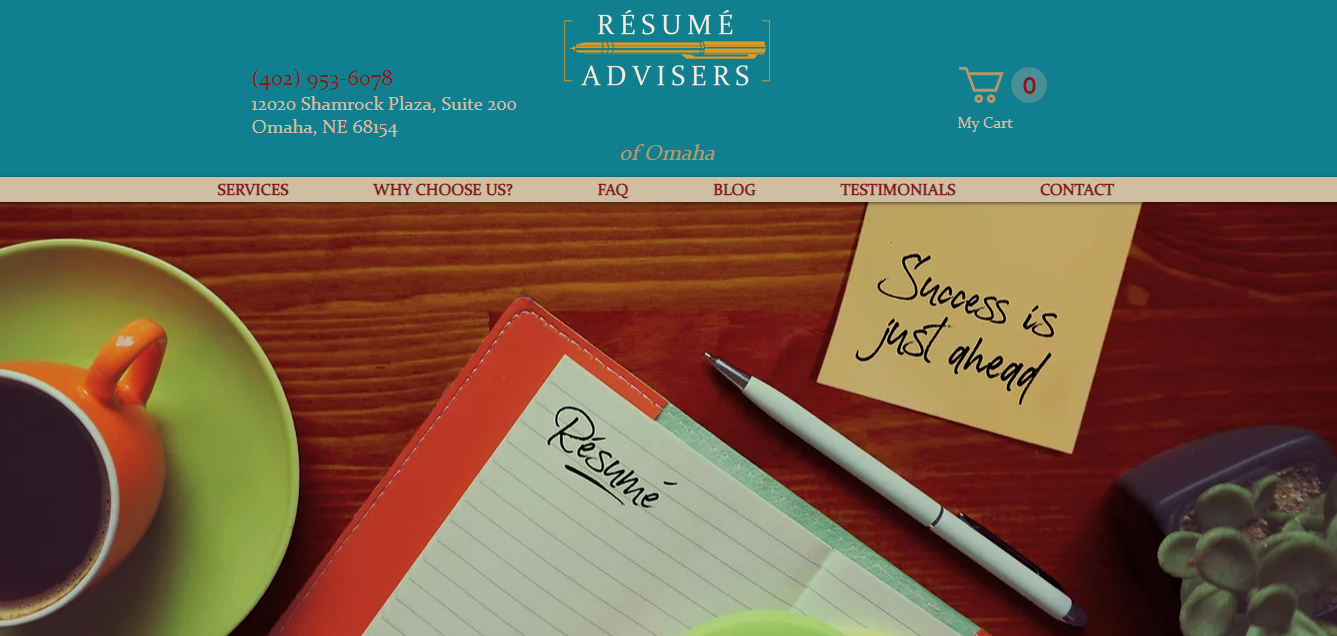 Resume Advisers, LLC, features writers and career coaches who have CPRW credentials, meaning they have specifically trained and been tested on their ability to write resumes and other job search materials. Based in Omaha, they understand the local shifts and nuances of the city's job market and can help you craft a resume that may lead to your desired position. They offer five levels of resume packages: early career, mid-level, professional, executive, and C-suite. All packages include one-on-one consultation with your assigned writer, keyword-formatted resumes delivered in three formats (Microsoft Word, ASCII text, and PDF), a customizable cover letter and reference page, and lifetime storage of the documents. Coaching is also available for job hunters, focusing on interview preparation, job search strategies, job transitions, salary negotiation, or topics requested by the client. Resume Advisers offers business seminars to groups as needed if you are a business leader.
Cost:

Early career resume package: $219
Mid-level resume package: $329
Professional resume package: $439
Executive resume package: $599
C-Suite resume package: $789

Turnaround time: Not listed
Resume design: no
| What We Like | What We Don't Like |
| --- | --- |
| Free resume review | No info on writers available on the website |
| Informational blog on the website | |
| Free refreshes for a year for returning clients | |
How to get started: You can call Resume Advisers at (402) 953-6078, email them with questions or send them your current resume. You can upload your resume directly to the website for a free review, and packages are available for purchase on the site as well.
---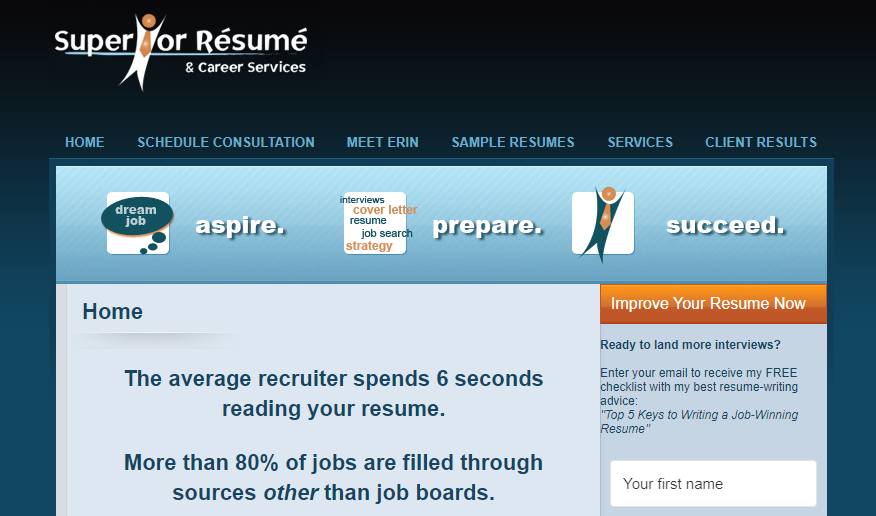 Customer Rating: NA
Superior Resume & Career Services' principal is Erin Cambier, who has a wealth of experience as a human resources manager and staffing executive. She has hands-on leadership experience in banking, healthcare, retail, manufacturing, and more, and is a Certified Professional Resume Writer. She offers a complete line of career-search services, including career coaching, corporate recruiting, group training, and resume writing. She specializes in working with experienced managers and executives, so if you fit that demographic, she could be a good fit. All resume packages, which start at $997, include a job-targeted resume, a 60-minute in-depth one-on-one career discussion, and all revisions or edits for up to 30 days. Her resume packages include several informational publications: Guide to Selecting the Best References, a professional reference sheet, and Secrets to a Successful Job Search.
Cost:

Custom resume & executive packages: start at $997
Career coaching & training programs: start at $597
Individual coaching sessions: start at $297
Cover letter: $200
Follow-up/thank you letters: $200
Career coaching: $297 per session

Turnaround time: 2-4 weeks
Resume design: yes
| What We Like | What We Don't Like |
| --- | --- |
| Sample resumes available on website | Services are pricey |
| Revisions free for 30 days | No contact phone or email |
| Packages include informational materials | |
How to get started: To connect with Erin, you'll fill out and submit the form on her website, which allows you to schedule a free, 30-minute consultation with her to see if you're a good fit for her services.
---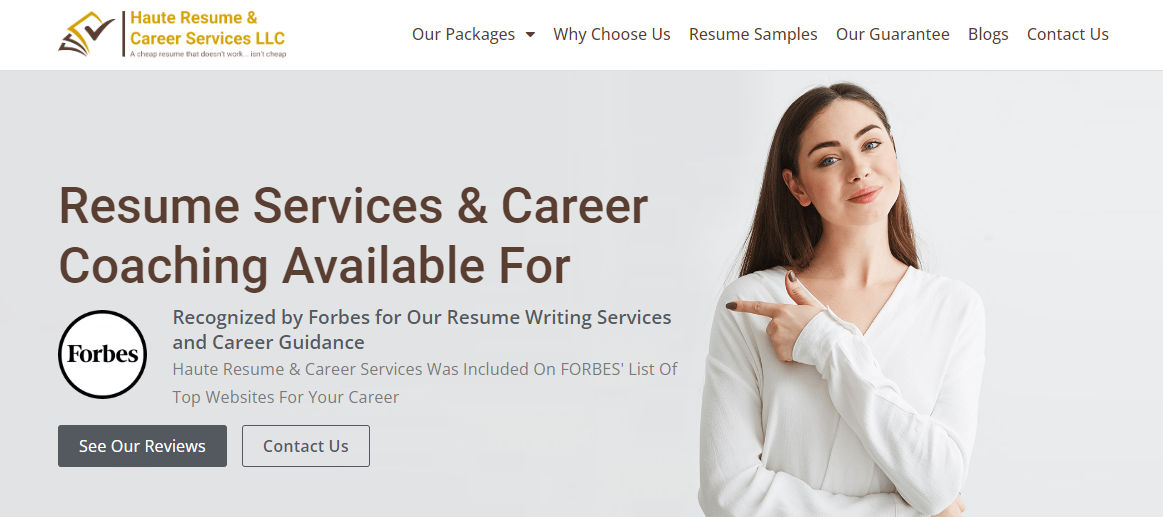 Haute Resume and Career Services have some excellent street cred: It was included in Forbes magazine's list of top websites for your career. The company has also seen work by its writers used in books such as Step-by-Step Resumes and Gallery of Best Resumes. Their resume packages come in six basic types: executive, mid-level management, non-management (including recent grads), IT resumes, military to civilian, and finally, a la carte services if you'd prefer to build your own package. Packages also include cover letters, and a 30- or 60-minute one-on-one phone consultation focused on strategic development and branding. Higher-end packages also include LinkedIn profiles, thank you notes, and, at the executive level, your resume distribution and access to an online job search system. They also offer career and job search coaching that can help you prepare for interviews or land your dream job faster and more efficiently.
Cost:

Executive resumes: $999-$1,899
Mid-level management resumes: $699-$1,499
Non-management resumes: $499-$1,299
IT resumes (non-management): $799-$1,599
Military to civilian resumes (non-mgmt.): $599-$1,399
Resume distribution services: $350
Career and job search coaching: $400 for three 60-minute sessions

Turnaround time: 5-7 business days
Resume design: no
| What We Like | What We Don't Like |
| --- | --- |
| 60-day interview guarantee | No information about writers on website |
| Resume samples available on website | |
| Resume distribution services available | |
How to get started: You can call Haute Resume at (866) 695-9318 or (402) 484-6819 to ask questions or get your free consultation. If you prefer, you can email them or send a query via the form on the contact page of their website.
---

Customer Rating: NA
Arlen Crawford founded ARC Resumes. A second-generation recruiting professional with over 25 years of experience, he assists candidates in finding their dream job. His services include job search documents, interview coaching, and job search guidance. ARC Resumes' prices are quite reasonable, and you get a lot for your money. The basic package, for example, includes an initial phone consultation, resume, cover letter, and thank you letter. At the high end, the professional package includes all that plus LinkedIn profile assistance, job searching help, a follow-up letter, salary tips, 30-60-90-day job plans, and an interview coaching session. None of these services is more than $400, putting them at the low end for professional resume services in Omaha. They are not based in Omaha—they're on the East Coast and work with job hunters across the country—so you'll need to work remotely with them. But they are worth considering if you're looking for some solid career documents on a limited budget.
Cost:

Basic package: $197
Standard package: $297
Professional package: $397

Turnaround time: Not listed
Resume design: yes
| What We Like | What We Don't Like |
| --- | --- |
| Free resume review | Not based in Omaha |
| 30-day guarantee | |
| Reasonable prices | |
How to get started: You can connect with ARC by calling them at (770) 692-3189 or sign up online for a free, confidential review of your current resume from one of their career services professionals.