Provider
Cost
Turnaround Time
Platforms
Customer Rating
Houston Outplacement
$395 – $740
1 Week or More
Online, Phone, or In-Person
ResumeSpice
$409 – 629
2 Days or More
Online, Phone
Houston Resume Writing Services
Custom quote
5 Business Days or Less
Phone
USA Resume
$159 – $309
3 – 5 Business Days
Online, Phone, Email
Advanced Career Solutions
$500 and up
24 to 48 hours from payment (weekends/holidays excluded)
Online, Email, Phone, In-Person
Resume Target
$199.99 – $1,049.95
3 Business Days
Online, Phone
Klaxos
DIY library: $10
Resume services: $159 – $279
4 Days
Online, Phone
Resume People
$159 – $279
2 Business Days
Online, Phone, Email
Capstone Resume
$65 – $349
2 – 3 Days
Online, Phone
Resume 101
$59 – $289
1 – 5 Days
Online
The Best Resume Writing Services in Houston, TX
---
The brain behind Houston Outplacement is Bridget Batson, a Certified Master Resume Writer (CMRW), Certified Executive Resume Master (CERM), Certified Employment Interview Professional (CEIP), Certified Professional Resume Writer (CPRW), and Nationally Certified Employment Interview Professional. All those certifications, along with 20 years of resume and career coaching, help her stand out in the Houston resume scene. She works individually with each client, and in addition to crafting keyword-enhanced resumes, offers career coaching, LinkedIn development, and professional branding. She has worked with numerous applicant tracking systems (ATS) and recruiters and knows the industry inside and out.
Cost: In-person resume writing services: $495 – $645; Virtual resume writing: $395 – $495
Turnaround time: One week or more
Resume design: Yes
| What We Like | What We Don't Like |
| --- | --- |
| Multiple certifications | Turnaround time can lag if the owner is busy |
| Clients work one-on-one with the owner | Resumes for engineers/analysts are more expensive |
| Career coaching available | |
What clients are saying. Reviews praise Bridget's knowledge base and ability to make her clients shine. Her coaching skills are top-notch, and she is easy to work with, professional, and insightful.
How to get started. You can phone Bridget at (713) 502-0614 or email her directly at [email protected].
---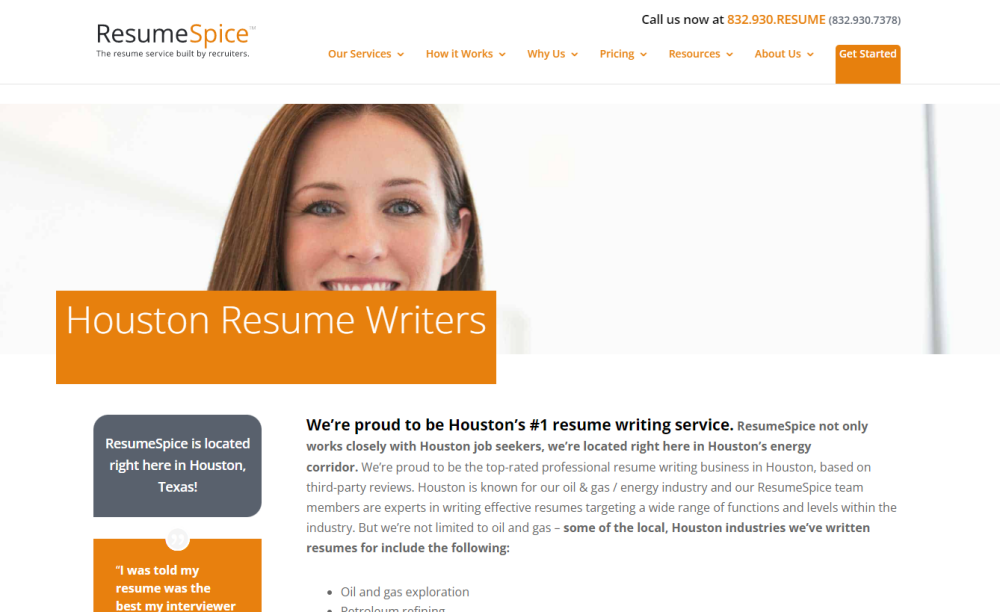 Created by two recruiters who wanted to broaden their ability to help people find jobs, ResumeSpice provides resume writing for entry-level, professional, and executive-level jobs. The company's writers can also produce cover letters, LinkedIn profiles, professional bios, and thank you letters, and one-on-one interview preparation is available by phone or Skype. ResumeSpice offers a satisfaction-guaranteed warranty on all resumes and is highly rated in the resume writing and career coaching categories on TrustPilot. ResumeSpice is especially skilled in creating resumes and job materials for those in the oil/gas/energy sectors, but they work in a broad range of industries with their clients.
Cost: $409 – $629
Turnaround time: 2 days to more than a week
Resume design: No
| What We Like | What We Don't Like |
| --- | --- |
| Career blog with free resume resources and samples | Somewhat pricey |
| 60-day interview guarantee | |
| In-person, Skype, or phone consultations | |
What clients are saying. ResumeSpice writers are professional and skilled, according to reviews. They work one-on-one with their clients to bring focus and clarity to their written job materials.
How to get started. The best way to get started is to select the appropriate resume option on their website and wait for an email once you've submitted your request. That email will include a questionnaire and a link to schedule your consultation time.
---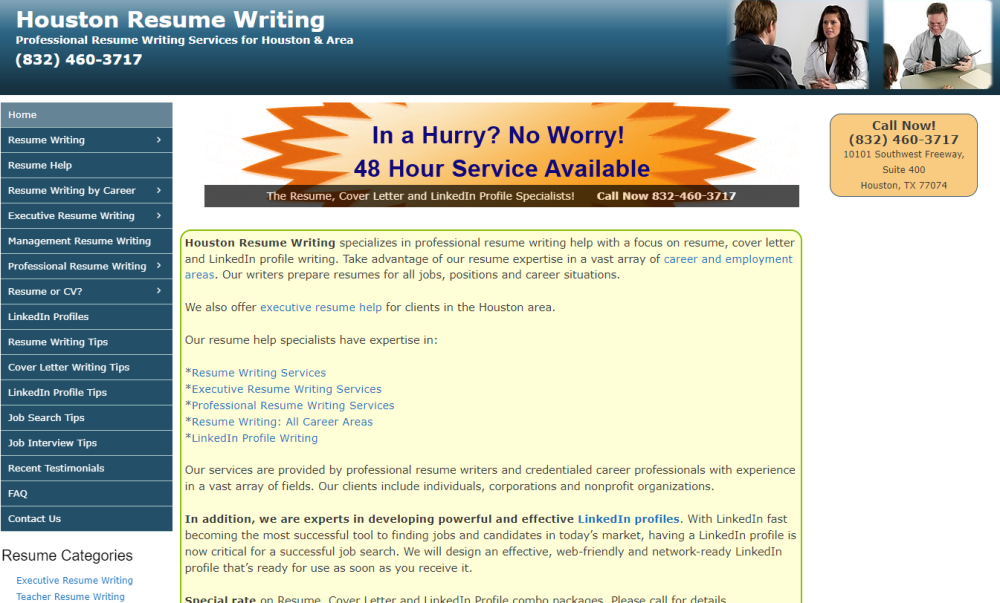 Houston Resume Writing Services specializes in resumes, cover letters, and LinkedIn profiles for professionals. Clients work with credentialed writers to create customized, non-generic resumes and other materials that allow you to stand out from the crowd. Although in-person consultations are available, most clients do business with them by phone and email. If you've had a career possibility come up quickly, they promise a 48-hour turnaround time in a pinch, though most resumes will take about five business days. Executive resume services include keyword optimization for ATS systems and assistance in targeting your resume to match position requirements.
Cost: Custom quote
Turnaround time: 5 business days or less
Resume design: Yes
| What We Like | What We Don't Like |
| --- | --- |
| Executive writing available for C-level positions | Pricing range not available on the website |
| 100% client satisfaction guarantee | No information available on resume writers and their credentials |
| 15 years experience | |
What clients are saying. Reviewers stress the speed and professionalism of resumes done by Houston Resume Writing Services. The writers help clients bring out the best of what they have to offer to the job market, and create documents that recruiters notice.
How to get started. Contact the company via the contact form on the website or calling them at (832) 460-3717. In-person consultations at their Southwest Freeway location can be arranged by appointment.
---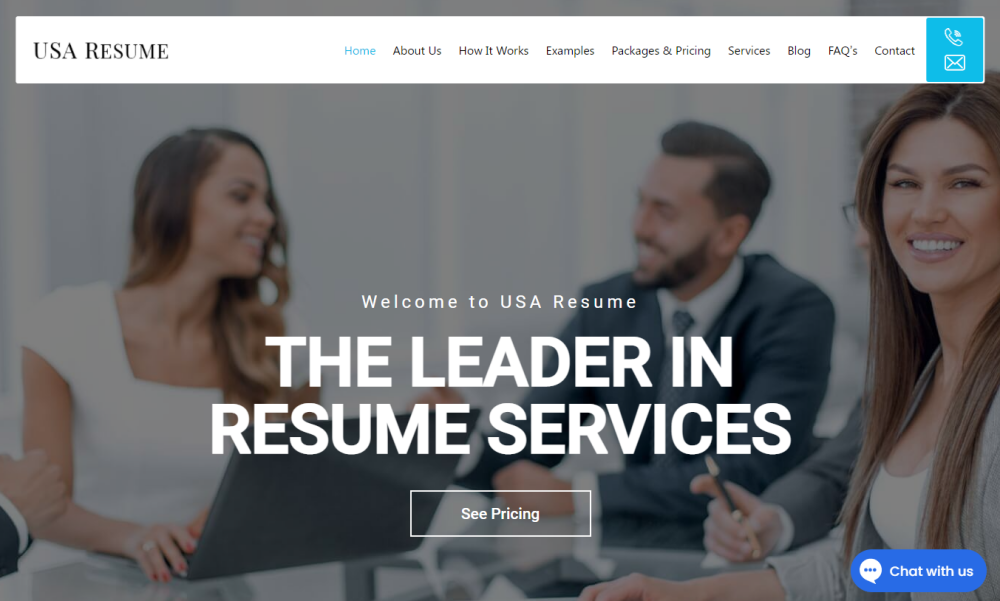 USA Resume has offices across Texas and Oklahoma and works with clients throughout the U.S. Although they work across various professional disciplines, they are particularly skilled at federal and military transition resumes. They have packages for those just starting out, as well as professionals and C-level executives. All packages promise that you will work with an industry-specific writer who will create a custom resume optimized to pass an ATS. Higher-end packages include a cover letter, reference page, LinkedIn profile, and unlimited revisions. There is also a package geared specifically for those searching for a federal job.
Cost: $159 – $349
Turnaround time: Within 14 days (24- to 48-hour rush services available)
Resume design: No
| What We Like | What We Don't Like |
| --- | --- |
| Focus on military transition resumes | Turnaround time can be up to 14 days |
| Interview coaching available | |
| Can do infographic resumes | |
What clients are saying. Reviews praise the professionalism of the USA Resume writers, attesting to the fact their job search materials are custom-made for their own circumstances. Many reviews note they were able to secure interviews soon after submitting their USA Resume-crafted materials.
How to get started. Review their packages and pricing page and choose the option you'd like. Once you've submitted your information, you'll hear from a writer within 24 hours. If you have questions, you may also call them at (832) 906-0646.
---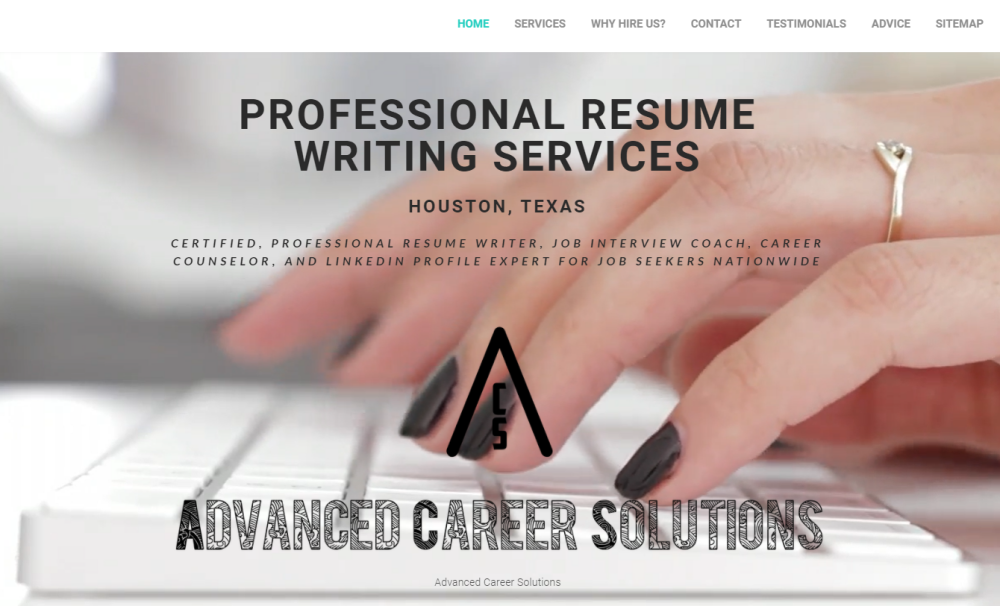 Advanced Career Solutions founder Bruce Clagg has multiple certifications to his name. He is a Certified Professional Resume Writer, Certified Professional Career Coach, and Certified Employment Interview Professional, and also holds certification in advanced resume writing. He has extensive experience in interviewing and hiring and understands how to position your career materials to attract the attention of hiring managers. In addition to resumes, Clagg does career and interview coaching and can help you brush up on your verbal skills so you'll ace that important interview.
Cost: $500 and up
Turnaround time: 24 to 48 hours from payment (weekends/holidays excluded)
Resume design: Yes
| What We Like | What We Don't Like |
| --- | --- |
| Multiple certifications | No sample materials on the website |
| Free resume review | |
| 25% senior discount; 50% military discount | |
What clients are saying. Reviews stress Clagg's high ethical standards and in-depth knowledge of the career industry. His writing skills and ability to draw out the best in a person's background are noted again and again and lead to multiple interviews.
How to get started. To get started with Bruce Clagg's assistance, fill out the form on the contact page of the website, email him at [email protected], or call at (281) 701-0658.
---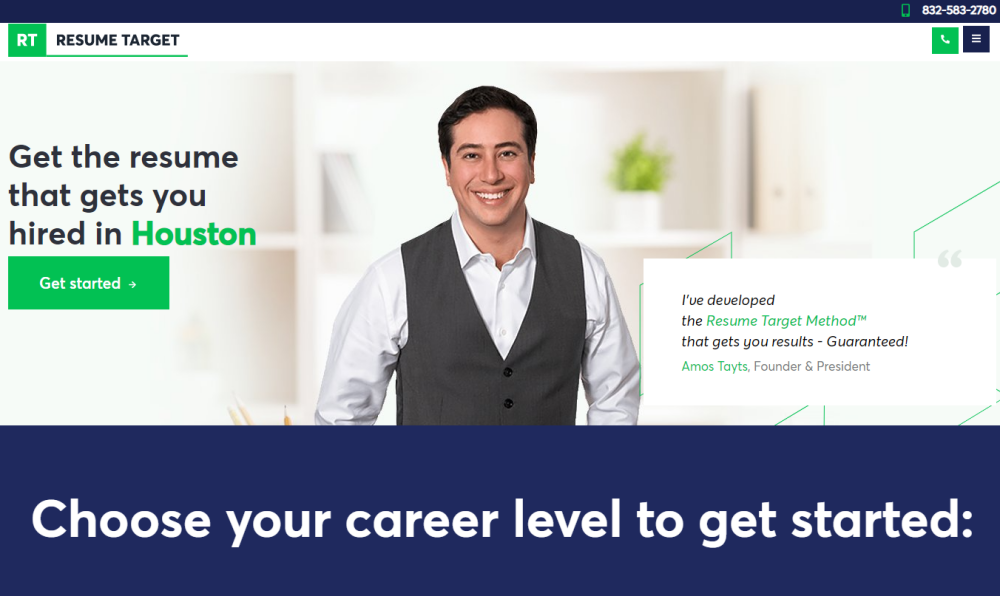 Resume Target claims to be the top-rated professional writing service in North America, with offices across the U.S. and Canada, including Houston. They offer a broad range of package options, from resumes targeted to current students to an executive package for those earning triple digits. Their "Triple Promise Guarantee" states that you'll get the draft of your resume back within three business days, score at least one interview with your new resume, and they'll work with you until you are 100% satisfied, no matter how many drafts it takes. Writers for the company have backgrounds mainly in journalism and take an in-house training program before working with clients.
Cost: $199.95 – $1,049.95, depending on the level of positions being applied to
Turnaround time: 3 business days (24- and 48-hour rush available)
Resume design: Yes
| What We Like | What We Don't Like |
| --- | --- |
| Resume distribution service available | Chain not headquartered in Houston |
| 90-day interview guarantee | |
| Live chat available on the website | |
What clients are saying. Resume Target Houston gets a perfect 5.0 score from Google reviewers. Many clients are impressed with the way the Resume Target writers take their basic information and split it into a customized resume or cover letter that shines a light on their accomplishments.
How to get started. Resume Target has a live chat function on its website to answer your questions. Call the company at (866) 472-4760 or begin the resume process with their online order form after choosing the appropriate package.
---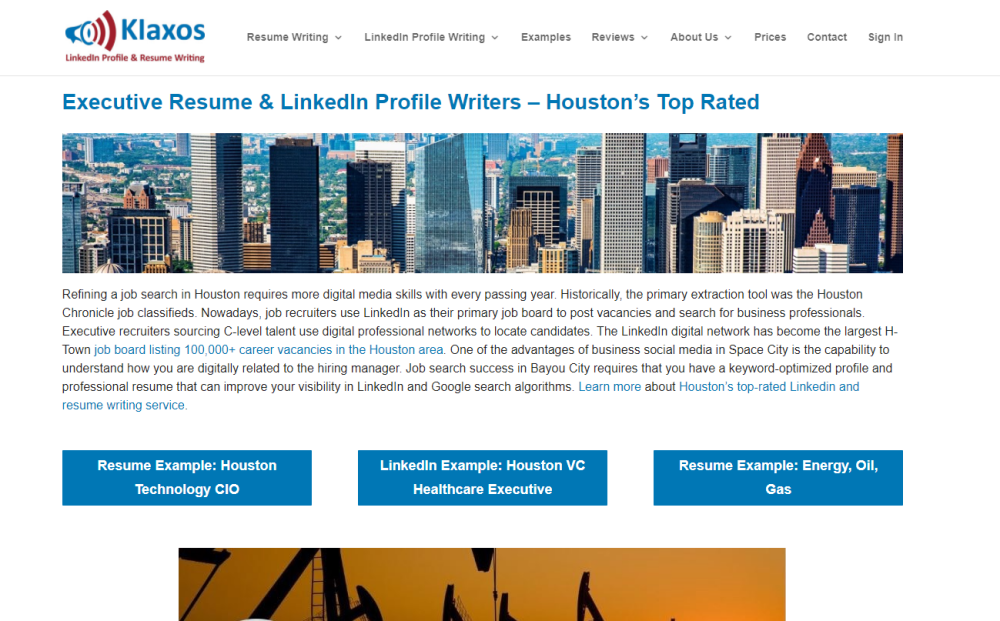 Led by founder and president Christian Moritz, the five certified writers of Klaxos will create your resume and cover letter, and are also skilled at LinkedIn profile work. They understand how to use keywords and phrases to help you get past screening software and into the hands of live recruiters and HR personnel. Unlike many resume companies, which limit you to two rounds of drafts, at Klaxos you have unlimited revisions. One nice option, if you want to work on your LinkedIn profile and resume on your own, is a do-it-yourself library of profiles and resumes available from the company for $19. Packages are available for early-career searchers, executive, mid-career, professional and entry-level jobs, and those with more than seven years of experience.
Cost: Early Career Package: $799; Silver Package: $1,199; Gold Package: $2,199
Turnaround time: 4 days
Resume design: No
| What We Like | What We Don't Like |
| --- | --- |
| 60-day guarantee | High-end packages are pricey |
| Clients receive job search action plan and summary builder e-book | Resumes are limited to one or two pages, depending on the package |
| Unlimited revisions | |
What clients are saying. Many client reviews note Klaxos' ability to write and organize an optimized LinkedIn page. Many reviewers who were career changers or military-to-civilian transfers noted Klaxos' particular ability to work with them to highlight past experiences to best match their new career field.
How to get started. To begin the process, go to their pricing page on the website, choose the package you prefer, and you will be contacted to arrange a phone or video consultation. For questions, there's an online form you may submit.
---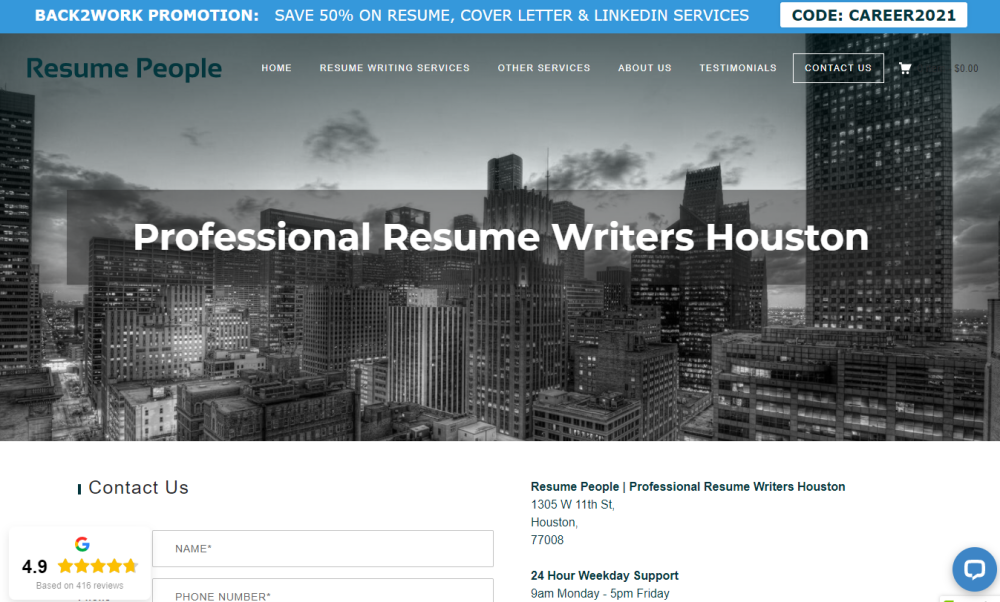 With over 100 resume writers and offices across the country, including Houston, Resume People is one of the largest companies on our list. That doesn't mean you won't get personalized service. Once you choose and pay for a package, you will be assigned to a particular U.S.-based writer and will work with him or her throughout the process. Although they don't do career coaching like some of our other chosen companies, there is 24-hour chat and phone support and a free resume review option that can help you decide if you need to hire a professional. In addition to packages for recent grads, professionals, management, and executive-level job seekers, the company also offers LinkedIn optimization, targeted cover letters, and academic CV writing.
Cost: $289 – $309
Turnaround time: 2 business days to the first draft
Resume design: Yes
| What We Like | What We Don't Like |
| --- | --- |
| 2 business days to the first draft | Only six resume designs to choose from; not customized |
| Reasonable prices | |
| Free resume appraisal | |
What clients are saying. Clients praise the professionalism of the Resume People writers and say that they are skilled at asking the right questions and taking the time to get to know their clients. Some reviews note that the company is great about sticking to its 2-day turnaround time for a first draft, and is equally quick at getting the final product in the client's hands promptly.
How to get started. There's an online chat window on the web page if you have questions, as well as a contact form on the homepage of the website. There is 24-hour weekday support at (800) 797-6880 or [email protected].
---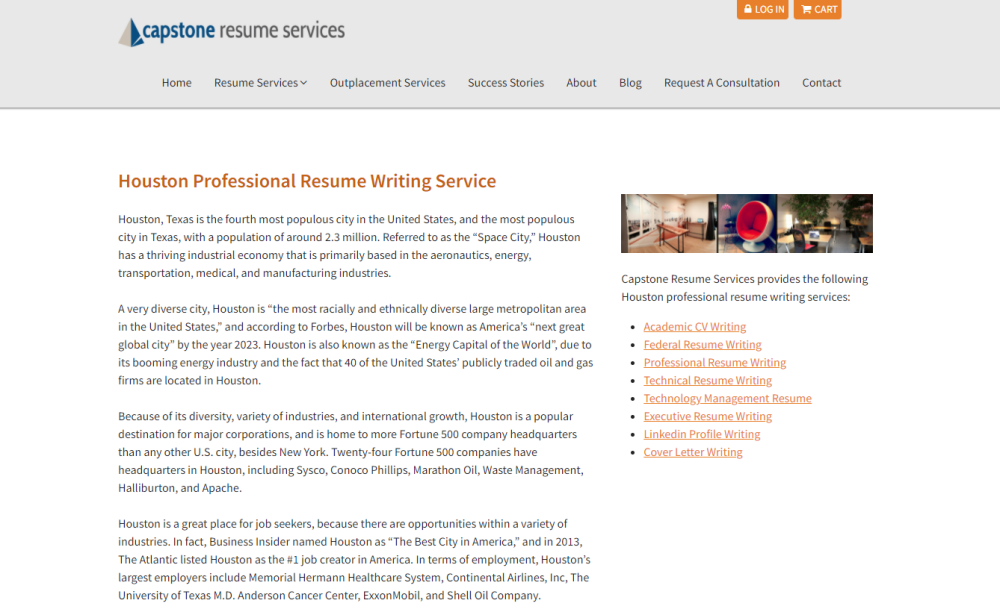 Capstone Resume was founded by Amy Gies, CPRW, who spent 15 years writing resumes and profiles for a startup in San Francisco. She saw the need for an independent agency focused on meeting the clients where they are and helping them develop the optimal professional presentation for reaching their potential. She specializes in executive and board resumes for C-level positions, academic and scientific CVs, federal resumes, and resumes geared for technology positions. With most resume companies, you pay upfront and then schedule a consultation, but Gies places the one-on-one consultation before you purchase a package or services. Gies also offers outplacement services for businesses that are undergoing workforce changes.
Cost: $175 – $349
Turnaround time: 2 – 3 days
Resume design: No
| What We Like | What We Don't Like |
| --- | --- |
| CPRW certified writers | Only one revision round |
| Technical resume writing available for developers, programmers, and analysts | Mixed reviews online |
| Supplemental KSA and other narratives | |
What clients are saying. Positive reviews like the focus on the individual that they receive from Capstone Resume. The initial consultation is a great way for Capstone writers to get to know and understand your career goals before they invest time, money, and energy in writing your resume.
How to get started. Request a one-on-one consultation with a writer using the company's online form or by calling them at (650) 445-5301. You can also email them at [email protected].
---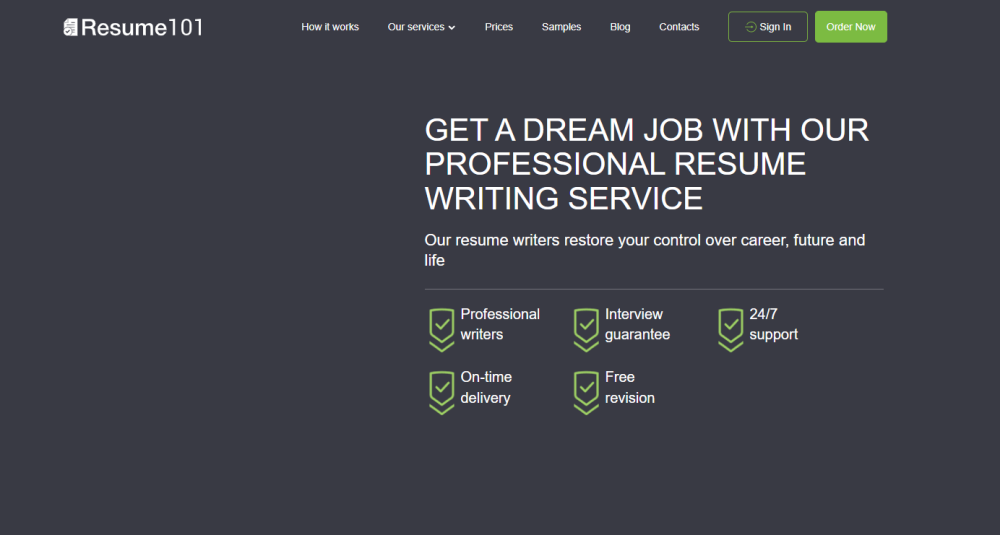 Resume101 is well-named. Give them your rambling notes on previous jobs or educational achievements, and they will come back to you with a simple, solid resume, quickly and painlessly. Their prices are reasonable, and they make the process as easy as possible. Just fill in the order form, attach your current resume, if you have one, and submit your payment details, and you will receive a resume, cover letter, or other job search materials in one to five days. Areas of specialization include federal resumes, career change materials, and military resumes. The company's prices are at the lower end of our chosen providers, and they offer round-the-clock support if needed.
Cost: $59 – $289
Turnaround time: 1 – 5 days
Resume design: No
| What We Like | What We Don't Like |
| --- | --- |
| Reasonable prices | Writers aren't necessarily certified |
| Samples available on the website | No one-on-one phone consultation |
| 24/7 support | |
What clients are saying. Clients praise the speed, efficiency, and inexpensive pricing structure of Resume101 writers. Reviewers who are new to the job search world or who haven't developed a resume on their own say Resume101 is particularly good at collecting and organizing information in a way that gets the recruiter's attention.
How to get started. The website features a live chat to answer questions. You can calculate the price and initiate the process by choosing your package from the home page and you can reach them by phone at (888) 244-6213.